We believe in testing products in the same way that regular people use them. To help us determine the best air purifiers 2019 we use an electronic air quality detector, objective data, expert analysis, and real-world testing.
These testing procedures help give our opinions real merit, since we have hard data to back up our reviews. For more about how we test and how we pick click those links, otherwise click here for our top picks for the best air purifiers.
#1. Rabbit Air MinusA2
The Rabbit Air Minus A2 is a feature-packed air purifier designed to seamlessly integrate into your home and life.
A High-End Purifier with XL Area Coverage
Rabbit Air MinusA2
The Rabbit Air MinusA2 is a large air purifier with one of the largest coverage areas we're seen to date, up to 815 sq. ft.. It has a 6-stage filtration process and did an excellent job of purifying the air during our tests. For a purifier with excellent coverage, customization, and purification, check out the Rabbit Air Minus A2.
Check Price
It offers smart connectivity so you can pair the purifier with your smartphone for remote controls or control via voice commands. It also has a variety of interchange front panels for an artistic design that is unique to this purifier.
The Minus A2 uses 6 different filters to clean the air, including:
Pre Filter
Medium Filter
HEPA Filter
Customized Filter (see below)
Charcoal Filter
Negative IONs
Rabbit offers 4 different customized filter options (this goes in slot #4 above).
These filters help to tailor the system to perform better in your home. You can choose between a germ defense filter, pet allergy filter, toxin absorber filter (for VOCs and chemicals), and the odor remover filter.
Purification Testing
The Rabbit Air MinusA2 performed exceptionally well in our air purification tests. It was able to remove 98.4% of particulates within our 1 hour test. PM2.5 was reduced from 12.4 to 0.1, PM10 from 21.6 to 0.1, and AQI from 50 to 0.
Starting Baseline
PM 2.5: 12.4
PM 10: 21.6
Particles: 584
AQI: 50
After 1 Hour
PM 2.5: 0.1
PM 10: 0.1
Particles: 9
AQI: 0
In terms of purification performance, it's the best air purifier we've tested so far.
We can't fully cover the Rabbit Air Minus A2 in this little summary (there are just so many features), but here are some of the other feature / spec highlights:
Cleans up to 815 sq. ft.
Filters last 1-2 years (running 12 hours a day)
Filter replacement cost is $85
Ultra-low ozone created (0.002 parts-per-million)
WiFi-enabled, so you can control with your smartphone
Customized panels featuring images and artwork available
Intelligently knows when to turn on to clean the air based on air quality, time of day, and other factors
5 year warranty
Read our Rabbit Air Minus A2 Review
If the MinusA2 is prohibitively expensive for you, check out the Rabbit Air BioGS review, the younger brother to the MinusA2.
#2. Dyson Pure Cool
If you like the power and detailed design aesthetic of a Dyson, you will probably really like Dyson's Pure Cool lineup.
A Dyson Full Tower Purifier for Large Rooms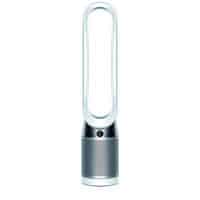 Dyson Pure Cool TP04
The Dyson Pure Cool TP04 is the largest air purifier in the Dyson Pure Cool lineup and moves up to 361 liters / sec of air. It comes with an auto mode for self-directing settings or can be customized (like airflow speed, direction, or oscillation angle). Overall, the TP04 is a great option for large room purification.
Check Price
The Dyson Pure Cool air purifiers are designed to purify air in rooms of various sizes and come with a variety of different features.
Compact
Pure Cool Me BP01
Medium
Pure Cool DP04
Large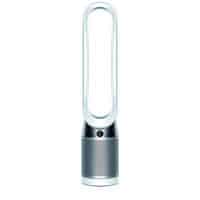 Pure Cool TP04
The Dyson TP04 air purifier, also known as the Dyson Pure Cool tower fan, is a large and powerful unit in the Pure Cool collection, capable of cleaning large rooms.
The TP04 uses a 360° sealed HEPA filter with activated carbon to the clean. The filter is able to remove gasses, allergens, and pollutants (99.7% of particulates as small as 0.3 microns).
Simple Usability
The TP04 is incredibly easy to use, including a remote control, smartphone integration, voice control, and automated operation. Additionally, the Dyson TP04 senses pollutants in real-time, including PM 2.5, PM 10, VOCs, and NO2.
Air purification performance on the Dyson TP04 was excellent. It was nearly as good as the Rabbit Air MinusA2.
Starting Baseline
PM 2.5: 7.4
PM 10: 12.1
Particles: 599
AQI: 30
After 1 Hour
PM 2.5: 0.2
PM 10: 0.2
Particles: 14
AQI: 0
The TP04 was able to reduce particulates by 97.6% within 1 hour. In addition, PM2.5 was reduced from 7.4 to 0.2, PM10 from 12.1 to 0.1, and AQI from 30 to 0.
Below is a list of the features included on the Dyson TP04 air purifier:
Air quality sensor (PM2.5, PM10, VOC, NO2)
HEPA filtration with activated carbon (to remove gasses)
Circulates 77 gallons of purified air per second
Can be used as a purifier + cooling fan or just a purifier
Can be controlled via smartphone, voice, remote, or Alexa
Wifi-enabled, can be controlled via the Dyson Link app
2-year warranty
Read our Dyson Pure Cool TP04 review here.
What About Other Dyson Air Purifiers?
We had a hard time deciding on which Dyson air purifier should be included with our best of list.
We felt that the Dyson TP04 was the most well rounded among Dyson air purifiers (and slightly outperformed the DP04), which is why we think it's overall the best.
Nevertheless, there are several other Dyson air purifiers that could be better for you depending on your exact needs.
How to Choose a Dyson Air Purifier
As a general rule, here's how to decide which Dyson air purifier is right for you:
Below we have a comprehensive comparison chart for Dyson's air purifier model lineup.
PRODUCT
DETAILS

BEST OVERALL

Dyson TP04

Type: Tower
Filter: HEPA + Carbon
Air Flow: 361 liters/sec

Check Price

BEST VALUE

Dyson TP02

Type: Tower
Filter: HEPA Only
Air Flow: 410 liters/sec

Check Price

BEST AIR FLOW

Dyson DP04

Type: Desk
Filter: HEPA + Carbon
Air Flow: 419 liters/sec

Check Price

BEST DESK SIZE

Dyson HP02

Type: Desk
Filter: HEPA Only
Air Flow: 200 liters/sec

Check Price

BEST YEAR-ROUND

Dyson HP04

Type: Desk
Filter: HEPA + Carbon
Air Flow: 310 liters/sec

Check Price

BEST SMALL

Dyson BP01

Type: Personal
Filter: HEPA Only
Air Flow: 257 liters/sec

Check Price
Related Dyson air purifier reviews:
#3. Coway AP 1512HH
The Coway AP 1512HH air purifier is a more compact purifier that is designed for great area coverage and easy usability.
A Compact, Modern Purifier
Coway Air Purifier
The Coway Mighty air purifier has a smaller footprint, but can tackle up to 360 sq ft. of area coverage and also includes real-time air quality assessment. If you're looking for a more compact air purifier that has sufficient coverage for a medium to large room and is value priced, the Coway AP 1512HH is a good fit.
Check Price
It has a simple aesthetic with all of the controls and air flow outlets located on the side and back of the unit. For a purifier that doesn't look as much like a traditional air purifier, the Coway is a solid option.
There is nothing overly fancy about the Coway. It doesn't have a remote control, nor can it connect to your smart home.
Nevertheless, we still think it's a good choice because of its exceptionally fair and reasonable price in relation to its air cleaning performance. It did well in our air purification tests, reducing PM2.5 from 3.1 to 0.3 within 1 hour.
Below is our full air purification testing data for Coway's 1512HH.
Initial Baseline
PM 2.5: 3.1
PM 10: 5.4
Particles: 234
AQI: 13
After 1 Hour
PM 2.5: 0.3
PM 10: 0.3
Particles: 34
AQI: 0
The square footage coverage isn't as huge as Dyson or Rabbit Air, but if you have a smaller space and need a good value option we think the Coway AP 1512HH is perfect.
Filter Process
The Coway air purifier uses a 4-stage filtration process:
Pre-filter
HEPA filter
Carbon filter
Ionizer (optional)
Here are the feature highlights on the Coway air purifier:
Cleans up to 360 sq. ft.
4-stage filtration with washable pre-filter
Optional air ionizer
Auto mode self adjusts fan speed for varying levels of air quality
Displays real-time air quality with 3 colors of LED lights
Timer (1, 4, or 8 hour)
Lets you know when it's time to replace the filter (HEPA or carbon)
3-year limited warranty
Read our Coway AP 1512HH Review
#4. Levoit LV-H134
The Levoit LV-H134 air purifier is a large purifier with a high capacity air flow (up to 710 sq. ft. of area coverage) and excellent purification performance.
Overall Excellent Air Purifeir for Large Sapces
Levoit LV-H134
The Levoit LV H-134 is a large air purifier that can treat up to 710 sq ft of air with excellent air purification scoring. While it lacks smart features like voice control or smartphone connectivity, it has the most important feature, excellent air purification. The HEPA filter is absolutely massive, as is the purification coverage area. It's a great way to purifier large spaces on a budget.
Check Price
It has an Auto Mode to help detect indoor air quality in real time and change setting as necessary to distribute the cleanest air possible.
The Levoit LV-H134 uses a large HEPA filter for primary air filtration. It is by far the largest HEPA filter we've tested to date.
This massive HEPA filter is needed given the size of the fan, which allows the LEVOIT LV-H134 to purifier extremely large rooms up to 710 sq. ft.
Features
In terms of features, the H134 is fairly simple. No smartphone control and no remote control.
However, we think that's perfectly fine given how strong the air purification performance is.
In our air purification tests it reduced PM2.5 from 7.0 to 0.1 within 1 hour. It's among the best air purifiers we've tested to date. See the rest of our testing data below:
Starting Baseline
PM 2.5: 7.0
PM 10: 11.6
Particles: 444
AQI: 29
After 1 Hour
PM 2.5: 0.1
PM 10: 0.1
Particles: 13
AQI: 0
When you consider the price point compared to the performance, it's really hard to overlook what an amazing value the LEVOIT LV-H134 is.
Here is a quick list of top features on the Levoit LV-H134 air purifier:
Cleans up to 710 sq. ft.
Offers real-time air quality assessment (4 LED colors)
Adjustable fan speed
Auto mode
Sleep mode
Adjustable brightness display
Filter status
Timer
Read our Levoit LV-H134 Review
Other Top Air Purifiers
Below we've listed several other air purifiers we tested that we think are definitely worth considering. They may be a better fit for you and your home, depending on your exact needs, budget, and desires.
All of the following air purifiers:
Performed excellent in our cleaning tests, reducing PM2.5 to 0.3 or lower (except Molekule, but we explain more about that below)
Can clean spaces 300+ square feet
Use a HEPA filter, while many also including a carbon filter (again, Molekule is an exception, but uses an advanced type of filter called PECO, we explain below)
Other features like smart home integration, remote control, air quality sensing, and ionization are great to have, but we don't think of these features as critically essential as the above.
Even so, many of the following air purifiers still have these features. Nevertheless, we focused our recommendations around purification power.
Full list of the Best Air Purifiers 2019
So with that said, here's our complete list of the best air purifiers:
We cover the Rabit Air MinusA2, Dyson TP04, Coway 1512, and Levoit H134 in detail above. Click here to jump back to those sections. The other 6 air purifier models are detailed below.
Dyson Pure Cool DP04
The Dyson Pure Cool 4th generation lineup is an absolute powerhouse, including both the DP04 and TP04. The only difference between the DP04 and TP04 comes down to size and form factor.
The Dyson DP04 has a slightly wider amplifier (the thing on the top of it) and is notably shorter than the TP04.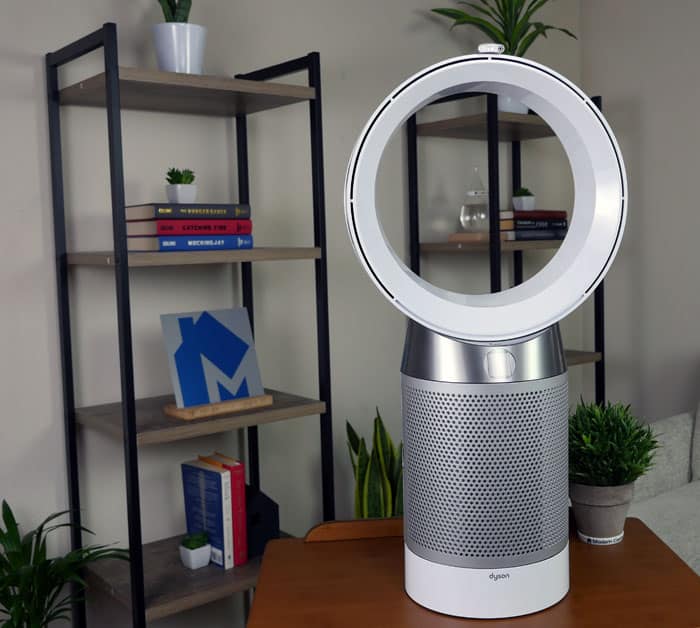 As a result, it's better suited for desks and tables, while the TP04 is better for sitting on the floor in a corner of the room.
Like the TP04, the DP04 includes both a HEPA filter and carbon filter.
In our air purification tests the Dyson DP04 performed well, reducing PM2.5 to 0.3. PM10 was also reduced to 0.3, while particles was reduced from 359 to 29 (per cubic liter of air).
Starting Baseline
PM 2.5: 4.9
PM 10: 8.5
Particles: 359
AQI: 20
After 1 Hour
PM 2.5: 0.3
PM 10: 0.3
Particles: 29
AQI: 0
This performance wasn't quite as strong as the TP04, however, we feel that it's within the margin of error on our tests and as such, equally as good.
Notably, the Dyson DP04 does have a faster air cycle rate of 419 liters per second (an increase of 16% over the TP04, which has a rate of 361 liters per second).
Related Reviews:
Dyson Pure Cool TP02
The Dyson Pure Cool TP02 is a few years old, but that doesn't mean it's a bad air purifier by any stretch.
The TP02 includes only a HEPA filter, but is powered by a strong fan capable of cycling the air at a rate of 410 liters per second.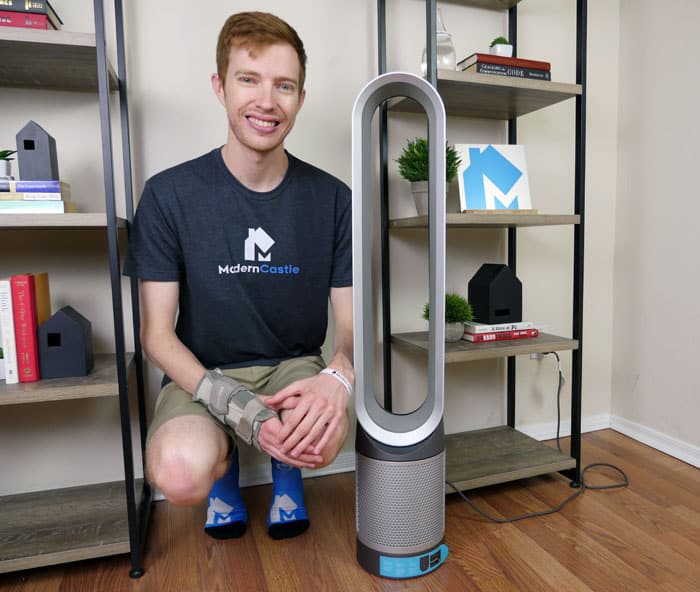 It includes many of the same features that you'll find on the 4th generation Dyson Pure Cool air purifiers, including:
360 degree HEPA filter
Smart home integration
Remote control (both via your smartphone and physical remote)
Real time air quality sensors
Similar form factor
The biggest feature the Dyson TP02 doesn't have is the carbon filter. So that's something to keep in mind if you're comparing.
Additionally, the TP02's digital display is more basic compared to that on the TP04 and DP04.
Nevertheless, we think the Dyson Pure Cool TP02 is worth mentioning due to its strong air purification performance relative to the price point. The TP02's purification was just as strong as the 4th generation models, reducing PM2.5 to 0.2.
Starting Baseline
PM2.5: 2.8
PM10: 4.1
Particles: 279
AQI: 11
After 1 Hour
PM2.5: 0.2
PM10: 0.2
Particles: 29
AQI: 0
Related Reviews:
Dyson Pure Cool + Hot HP04
The Dyson HP04 is a 4th generation Dyson air purifier. Like the Dyson DP04 and TP04 it has a carbon filter and HEPA filter.
However, where its different is its ability to heat.
The Dyson Pure Cool + Hot HP04 is able to purify air, blow cool fan air, and also blow heated air into your room. This is a rarity among air purifiers and something we've not seen anywhere else.
Since it both cools and heats it's a nice option for use all year long.
Air Cycle Rates
The biggest negative to the Dyson HP04 is the lower (relatively speaking) fan speed, which can only cycle 310 liters of air per second.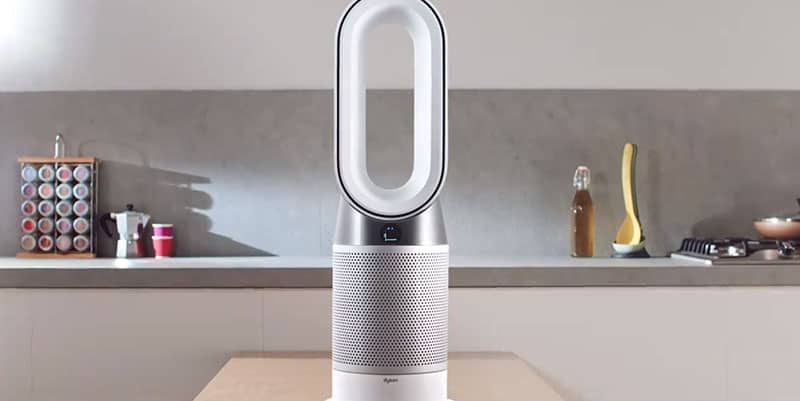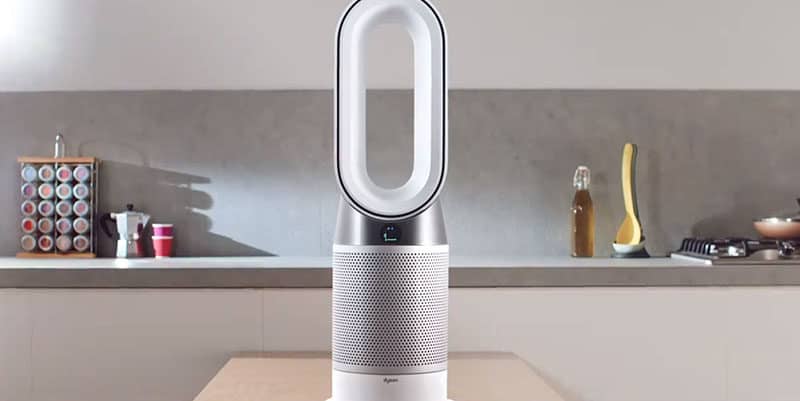 We haven't had a chance to personally test the HP04 yet. However, there is no reason to think its air purification performance would be any worse or better than the Dyson DP04 and TP04.
The only area where the HP04 might not be as strong as its ability to purify large spaces. See relative air cycle rates below:
HP04 – 310 liters / second
TP04 – 361 liters / second
DP04 – 419 liters / second
Related Reviews:
Levoit LV-PUR131
The Levoit LV-PUR131 isn't the biggest or best at anything. However, where it excels is its ability to strike an exceptional balance of performance vs. price.
The PUR131 is the cheapest air purifier on our list by a healthy margin.
Despite this fact, it was still able to achieve a PM2.5 of 0.2 in our air purification tests. PM10 was reduced from 9.5 to 0.2, particles from 289 to 39, and AQI from 23 to 0.
Starting Baseline
PM2.5: 5.6
PM10: 9.5
Particles: 289
AQI: 23
After 1 Hour
PM2.5: 0.2
PM10: 0.2
Particles: 39
AQI: 0
In addition, it includes both a sizable HEPA filter and carbon filter (for removing smells).
Where it lacks…
No smart home integration
Doesn't have a digital display of sensor data
No remote control
Limited coverage of ~322 sq. ft. (good for medium to large bedrooms or other large single rooms)
No scheduling
In exchange for giving up those features you get an air purifier that's significantly less expensive than other air purifiers, despite still having good overall air purification performance.
Related Reviews:
Rabbit Air BioGS
The Rabbit Air BioGS SPA-625A is the little brother of the Rabbit Air MinusA2.
Notably, it lacks smartphone connectivity and doesn't have quite the raw power of the MinusA2. These factors aside, it's still a powerhouse in its own right.
The BioGS SPA-625A is able to purifier spaces up to 625 square feet.
Like the MinusA2 it has a combination of filters, including:
Pre-filter (that you can periodically wash at home)
Carbon filter
HEPA filter
Ionizer (you can turn it off if you prefer)
It performed well in our air purification tests, where it crushed its way through a starting baseline of 15.5 PM2.5. Within 1 hour it reduced PM2.5 to 1.8 and within 4 hours to 0.3.
Starting Baseline
PM2.5: 15.5
PM10: 25.2
Particles: 899
AQI: 57
After 1 Hour
PM2.5: 1.8
PM10: 3.3
Particles: 76
AQI: 8
After 4 Hours
PM2.5: 0.3
PM10: 0.3
Particles: 19
AQI: 1
Again, not quite as amazing as the MinusA2. However, considering the price point, this is still a beefy air purifier that can handle large square footage areas.
Related Reviews:
Molekule
Molekule is arguably the most advanced air purifier on the market. The Molekule uses Photo Electrochemical Oxidation (PECO) to clean air. PECO works at the molecular level to destroy pollutants in the air.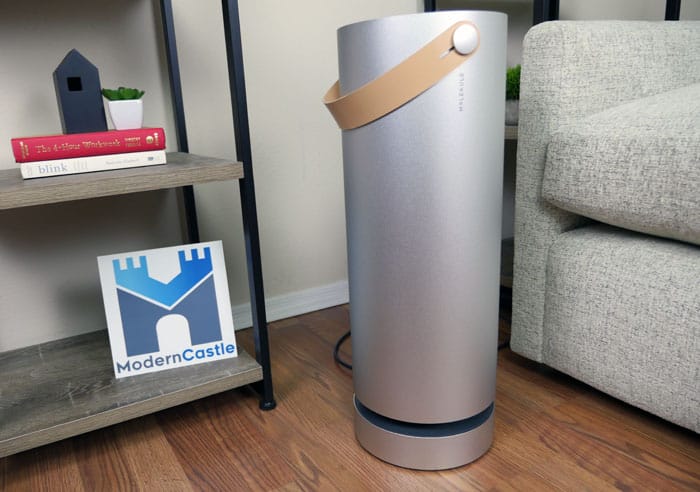 Unlike traditional HEPA filters, the Molekule is able to capture and destroy a wider range of ultra-small particles, including:
Chemicals floating in the air aka volatile organic compounds (VOCs)
Bacteria & Viruses
Mold
Allergens (ex. dust, pollen, and pet dander)
While the Molekule didn't quite reach the 0.1-0.3 PM2.5 reading we saw for the other air purifiers on our list we still feel it's worth mentioning since the PECO destroys the particulates, as opposed to just capturing them.
Starting Baseline
PM2.5: 6.2
PM10: 10.7
Particles: 379
AQI: 25
After 1 Hour
PM2.5: 0.6
PM10: 1.2
Particles: 44
AQI: 0
The PECO Filter
The PECO filter is an interesting development within the air purification market that has remain largely unchanged since the development of HEPA filtration (at least in terms of how particulates are trapped and removed).
Below is the full list of features included with the Molekule:
Cleans up to 600 sq. ft.
Take about 1 hour to fully clean the air within the room
Zero ozone created
Filter replacement cost (annually) is $129
Annual filter subscription include 2 PECO filters and 4 Pre-Filters
Wifi enabled, so you can control via your smartphone
1 year warranty
Related Reviews:
How We Test
At Modern Castle we test products the same way that regular people use them.
In the case of air purifiers our process looks like this:
Close a bedroom door and turn off the HVAC. We don't perfectly seal the bottom of the door, but we do make an effort to prevent extra air and particulates from flowing into the room during the test.
With the door closed we take a baseline measurement of air quality.
We then let the air purifier run for 1 hour on the highest settings.
Next, we take a new measurement of the air quality and compare those results to our baseline data.
Lastly, we analyze data and compare it to other air purifiers to determine the final score and determine any recommendations we want to make.
What about long duration tests?
Some people have asked us why we don't test air purifiers for longer durations. The answer is, we have.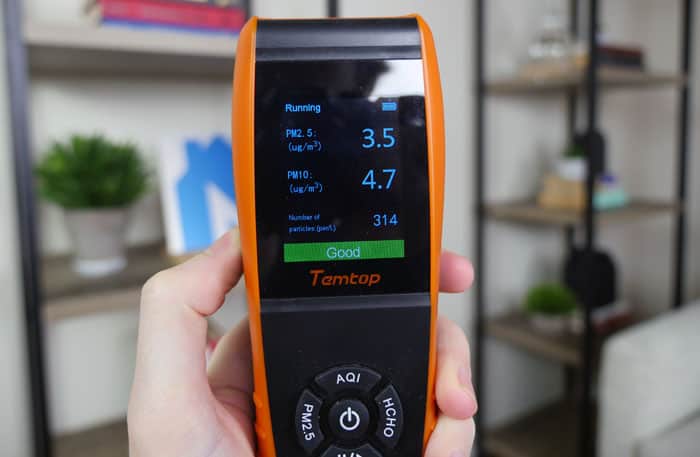 In the past, we ran tests as long as 36 hours. However, in our experience almost all air purifiers we've tested were able to fully cycle the air in the test room within 1 hour. Our data after the 1 hour mark very rarely changed.
As a result, we decided 1 hour tests were sufficient in most cases.
On some air purifiers we include data for more than 1 hour. As a result, you may come across a few of those in our list of air purifier reviews. If we feel it's needed we include the supplementary data to help round out our tests.
At the end of the day, we complete in-depth tests to help us better understand which air purifiers perform best, how they compare to each other, and which are better under various environments.
How We Picked
We've personally tested over a dozen different air purifiers and researched dozens more. From the most personal, compact purifiers to hospital-grade purifiers, there's certainly a wide range to choose from out there.
So what exactly makes one purifier better or worse than another?
After all, they're all designed to clean something invisible so can one be definitively better than another?
The asnwer is yes. When testing air purifiers, we're looking at a range of different features, but some of the most important include:
1. Performance
First and foremost, let's talk performance. If an air purifier doesn't effectively purify the air in an indoor space, can it really be called a "good air purifier"?
To test any air purifier, we follow the process below:
Get a baseline measurement of starting air quality.
Run the selected air purifier for 60 minutes in a closed room.
Retest the air quality and document the improvement.
How the number of particles relates to the air quality index tells us a lot about the overall quality of the air.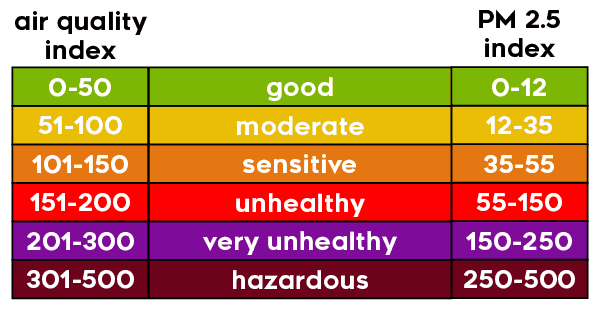 We are looking at the following features to assess overall air quality:
AQI – Air Quality Index
PM 2.5 – Particulate matter under 2.5
PM 10 – Particulate matter under 10
Overall number of particles
Here are a few of our top performing air purifiers. All of these models purified the air down to 0.1-0.2 (concerning particulate matter size) and drastically improved indoor air quality.
815 Sq. Ft.
Editor's Choice
Budget HEPA
2. Filter Type
The best air purifiers have multiple forms of filtration to tackle a range of airborne media, like:
HEPA air purifiers: HEPA filtration is the most popular type of air purifier on the market. These filters use an ultra-fine mesh to help filter out ultra-tiny particles, in some cases all the way down to 0.3 microns.
Activated carbon air purifiers: There are not many air purifiers that rely solely on activated carbon filters, but carbon purification is highly effective at helping to remove odors from your home. If odor-reducing features are your main aim, you'll want to make sure you select a purifier with an activated carbon (charcoal) filter.
Ionic air purifiers: Ionic air purifiers (aka ionizer) use the power of negative-charged ions to attract to positively charged airborne particles in your room and sink them to the floor, where they can later be vacuumed up. Getting these particles out of the air is the first step in preventing airborne illnesses and the spread of germs.
PECO (photo-electrochemical oxidation) filters: This type of filtration is less common on the market, but not unseen. PECO technology is a form of filtration that uses light combined with a nano-coated filter to chemically destroy unwanted airborne particles. Those in favor of PECO technology claim that it may be more effective than HEPA because it destroys the particles, not just captures them.
Modern Look
Budget Carbon
PECO Filtration
3. Top Features
Different air purifier put their design efforts into a variety of different features. Depending which features are most important to you, may help to drive the decision of which air purifier to select.
Some of the most popular features in air purifiers includes:
Real-time air sensing: With real-time air sensing, the air purifier will be able to constantly access the indoor air quality and determine what level of purifier cation is needed.
Remote control: Some air purifiers can be controlled remotely with a physical remote control, smartphone control, or even voice control (when paired with a smart device like Amazon Alexa or Google Assistant).
Auto mode: Auto mode can be based off of indoor air quality, pre-programmed schedules, or time of day. Essentially, this mode automatically adjusts the fan speed or intensity if purification based on a specific factor.
Sleep mode: Sleep mode is a quieter level of purification that allows you to rest easier without high fan speeds stealing your sweet dreams.
Air Quality Sensing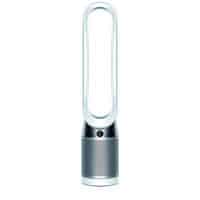 Remote Control
Auto Mode
Note, that the above models we called out are just one possible good option.
There are actually quite a few air purifier models that can sense air in real time including Dyson's Pure Cool, Rabbit Air MinusA2, Levoit's PUR131, Molekule, and many others.
The same is true of models with auto mode and remote control.
Air Purifier Reviews
Below we have listed all of the air purifiers we've reviewed to date. As we test and review more air purifiers we will add them to this list.
Air Purifier Comparisons
Check out these quick links to compare top air purifier models:
More Resources
The Last Word
Still not sure what to buy? Please drop us a comment below or send us an email, we'd be happy to help you decide.
Similarly if there is an air purifier that isn't listed above that you think we should test let us know!
Update Log
August 9, 2019 – Overhauled the page with improved formatting, images, and content. Re-organized what we think are the best purifiers based on our updated testing data and continued research.
February 5, 2019 – Original version of the page published.