We developed our own performance challenges to put vacuums to the test against real world messes.
As a result, we've identified what we think are the best vacuums for 2020 based on objective data, in-house tests, and expert analysis.
Whether you need a vacuum for carpet, pet hair, hardwood floors, home, car, or elsewhere, we've tested the best vacuums on the market.
So with that said, let's dive in!
Find the Best Vacuum Type for Your Home
Click the links below to jump to the specific vacuum type that sounds best for your home cleaning needs.
Best Cordless Vacuum: Dyson V10 Absolute
vacuums with battery power for convenience and ease of use
Best Robot Vacuum: Roomba 690
vacuums that clean your home automatically
Best Vacuum for Pet Hair: Dyson Ball Animal 2
vacuums that are great at removing pet hair
Best Handheld Vacuum: Shark Pet Perfect 2
corded and cordless vacuums that are great for small messes
Best Vacuum for Hardwood Floors: Dyson V8 Absolute
vacuums that can clean your hardwood floors without damaging them
Best Upright Vacuum: Dyson Ball Multi Floor 2
traditional upright vacuums that are versatile and can handle a variety of cleaning tasks
Best Stick Vacuum: Dyson V7 Motorhead
lighter weight, convenient, and portable stick vacuums
Best Canister Vacuum: Miele Classic C1
high-performing canister vacuums for a deep clean
Best Car Vacuum: Dyson V7 Trigger
small portable vacuums that are great at cleaning car interiors
Best Vacuum for Carpet: Dyson Ball Animal 2
vacuums that can handle carpet cleaning of all types
Best Vacuum for Allergies: Dyson Cinetic Big Ball Allergy
vacuums with high-performance filters and design features to reduce allergies
Best Budget Vacuums: Hoover WindTunnel T-Series
value vacuums that are priced below $300, $200, and $100
Best Cordless Vacuum
Ideal for… convenience, easy to use, and grab & go cleaning
Cordless vacuums have come a long way in recent years. As a result, many cordless vacuum cleaners offer cleaning performance that is just as good (and even better in some cases) as traditional upright and canister vacuums.
The best part about cordless?
One word, convenience.
It just doesn't get any easier than the cordless design.
For example, you can easily take the vacuum from room to room, up stairs, or even out to the car. While the battery length does limit how long you can clean, many are still able to run for 30-60 minutes, which is sufficient for cleaning most homes.
But what about performance?
In our cleaning tests, we have seen cordless vacuums perform just as well as many popular upright and other corded vacuums. The Dyson V-series vacuums are among the best performers we have tested to date.
For example, all Dyson V-series vacuums scored debris removal scores of 95-99%.
Downsides?
The most significant downside is the battery, which will eventually need to be replaced. For instance, most cordless vacuum batteries tend to last 2-4 years.
That said, some batteries can last longer, depending on the battery, manufacturer, and how you use your vacuum.
You should buy a cordless vacuum if…
You want convenience – the convenience of a cordless vacuum cleaner is virtually un-matched in the world of vacuums (except for maybe from a robot vacuum). As a result, they are the perfect choice for quick grab-and-go cleaning sessions.
You want lots of cleaning attachments – many cordless vacuums come with a variety of cleaning attachments and accessories. As a result, these vacuums offer a lot of value, since it lets you clean more places around your home more easily.
You should not buy a cordless vacuum if…
You want to vacuum for a long time – if you tend to vacuum for a long period of time, say 45 minutes or more, you may want to avoid the cordless vacuum. For instance, even the best cordless vacuum cleaners only run for 30-60 minutes at a time (with some variance, depending on cleaning mode and attachments). Therefore, if you tend to clean for a longer period of time you'll probably be happier with a corded vacuum (click here to jump to the best upright vacuums).
You don't want to replace batteries – if you don't like the idea of having to replace the battery every 2-4 years you probably should avoid the cordless design. By contrast, other types of vacuums may offer a lower annual maintenance cost, since you will not have to replace a costly battery.
Our Cordless Vacuum Picks
If you want to save a few bucks, opting for a more budget-minded vacuum is definitely a good choice. While you won't get quite the raw performance that the best cordless vacuum has, the Dyson V8 is not slouch.
MORE – For a more detailed comparison of cordless vacuums see our best cordless stick vacuums guide, which shows the best 8 cordless vacuums for a variety of cleaning jobs (pet hair, carpets, hardwood, budget picks, etc.)
Best Robot Vacuum
Ideal for… convenience, you have a busy life, simpler floor plans
When robot vacuums first came out they were generally bulky, expensive, and (let's face it) not very smart. Over the past 10 years robot vacuums are becoming increasingly popular, having come down in price and increased in performance.
How do robot vacuums clean?
Robot vacuums are designed to roll around an area, making navigational markers as it sucks up debris across the floor. Many models have a spinning side brush, like the Roomba 690, to help capture debris along edges and corners.
Other models skip the spinning side brush and instead alter the shape of the vacuum to be able to slide into corners and tight spaces, lie the D-shaped Neato robot vacuum.
What do you get with a robot?
Robot vacuums today provide convenience, automatic cleaning runs (with models that have scheduling), and more intelligent navigation, using infrared light, cameras, and sensors (varies by model) .
Most robot vacuums come with some kind of virtual barrier so that you can easily block off sensitive areas, like for pet food, making a robot vacuum function more like how a real user would.
Robot Vacuum Cleaning Performance
Performance of robot vacuums may vary from brand to brand, but performance on hardwoods (and most low pile carpet) tend to yield the best results.
In the Modern castle cleaning lab, we put the most popular robots to the test and tend to see some trends.
For example, Roomba models tend to be among the best performers with the budget-friendly Roomba 690, up to their newest top-tier performer, Roomba i7+.
RELATED: Click here to check out the Best Roomba and full list ofRoomba reviews.
Any Robot Disadvantages?
The biggest disadvantage to a robot vacuum is probably the babysitting.
For example, top-tier robot vacuums can navigate most floor plans with ease, but more budget-friendly models could need a little help from you.
As a result, this might mean tracking down your robot after it fails to return to its base after a cleaning cycle.
Without memory mapping, advanced sensors / cameras, or navigational beacons, less expensive robot vacuums tend to just bump into things until they eventually get everything clean.
Effective? Yes.
Efficient? Not as much.
You should buy a robot vacuum if…
You want convenience – A robot vacuum can be pre-programmed to clean your floors, whether you're home or away. One model (the Roomba i7+) even can empty the dust bin for you to make the job even easier to forget about.
You have a simpler floor plan – While navigation might be lacking in some less expensive robot models, if you have a small amount of square footage or just a simpler floor plan with less obstacles, robot vacuum could still be a nice option. If you do happen to have a larger and/or more complex floor plan, you'll want to spend a little more to get a higher end robot.
You should not buy a robot vacuum if…
You don't like hide and seek – Part of having a robot vacuum is tracking it down when it finds itself in trouble. This could mean finding it with a dead battery in some remote corner of the house, or shouting an error at you from the bathroom where it got tangled up with your shag rug. Robot vacuums can be incredibly handy, but they also may need you to come and rescue them from time to time.
You don't want to replace batteries – Similar to a cordless vacuum, a robot vacuum will also required battery replacements, due to its cordless nature. They will generally last 2-3 years, but it could be something to keep in mind if you're concerned with added recurring costs.
Our Robot Vacuum Picks
If you think the Roomba 690 is a bit out of budget, no problem. There is a great budget minded option.
Last, but not least, if budget is less of a concern and you just want raw cleaning power, the Roomba i7+ is a great choice.
Best Vacuum for Pet Hair
Ideal for… removing pet hair from carpets, hard surfaces, and upholstery
Shopping for the best vacuum for pet hair comes with a different set of needs than people who don't have furry friends. Whether you've got dogs, cats, or something in between, it's important to select a vacuum with the right pet features.
What should you look for in a pet vacuum?
Pet-friendly homes generally benefit from larger capacity dust bins, HEPA filtration, and add-ons that are designed specifically for capturing pet hair (like motorized roller brushes or tangle-free attachments).
One of the best models for a large capacity dust bin is the Dyson Ball Animal 2 which can hold over 2 quarts of debris.
How to Remove Pet Hair
Pet hair can be especially tricky to remove, especially from upholstery or high pile carpet, where it can sink deep into the fibers.
Motorized brushrolls for pet hair tend to be designed in a way that helps to reduce tangles and suck up more of the hair.
RELATED – We're covering full-size vacuums below, but see here if you need a handheld pet hair vacuum.
As a result, the best pet vacuums are those that include motorized brushrolls capable of pulling pet hair to the surface of carpets, upholstery, and other fabrics.
Upright Vacuums for Pet Hair
Upright vacuums make excellent options for cleaning up pet hair since they have larger capacity dust bins and offer an unlimited run time, unlike more compact or convenient cordless vacuum cleaners.
PROS
Upright vacuums generally have stronger suction, compared to more compact vacuums and also typically come with a number of on-board accessories.
This can be pretty handy when you transition from cleaning pet hair in the carpet to pet hair on the couch.
CONS
At times, a corded upright may be hard to manage and could be difficult for more versatile cleaning, like cleaning stairs or small crevices.
Cordless Vacuums for Pet
While some of our favorite vacuums for pet hair are corded upright models, that's not to say that there are not good cordless models. Cordless models come with a few notable pros and cons.
PROS
A cordless vacuum for pet hair makes it quick and easy to clean up messes, regardless of where they are in the house.
Cordless pet hair vacuums are also a great option for vacuuming pet hair out of your car, like the Dyson V10 Animal and Dyson V8 Animal.
CONS
Cordless models have a limited run time and may need recharging before the job is done.
Cordless vacuums will also need to have their battery replaced within ~2-3 years (exact longevity varies by manufacturer, model, and use).
Robot Vacuums for Pet Hair
Robot vacuums are another solid choice for cleaning pet hair. Robots are autonomous and many models do an especially good job of cleaning pet hair, especially on hardwoods and lower pile carpets.
PROS
Robot vacuums can be scheduled ahead of time to clean up your pet messes and many models can identify high traffic areas and spend a little extra time cleaning those spaces.
See our complete guide on the Best Roomba for Pet Hair here.
CONS
Robot vacuums have one of the smallest dust bin capacities of any other vacuum types.
Which vacuum for pet hair is right for you?
Upright vacuum for pet hair – An upright pet hair vacuum, like the Dyson Ball Animal 2or the Shark Navigator Lift-Away Pro have larger capacity dust bins, great filtration, numerous attachments, and corded power for fade-free suction. Keep in mind, upright models may be harder to maneuver and could have brushrolls that allow pet hair to tangle. (Look for "Tangle-Free" brushrolls where available).
Cordless vacuum for pet hair– Cordless vacuums for pet hair are nice if you do mostly quick pick-ups or want to quickly carry your vacuum around the house. The Dyson V8 or Dyson V10 are cordless stick vacuums models. Cordless models are lightweight and easy to maneuver, but also come with limited battery life and a smaller dust bin (generally).
Robot vacuum for pet hair– Robot vacuums, like the Roomba e5, can be excellent for pet hair. They offer scheduled cleanings, autonomous spot cleaning, and hands-free convenience. As a potential downside, these vacuums also tend to have a smaller dust bin capacity so you may need to empty the bin more frequently if you have a high level of pet hair.
Our Best Pet Vacuum Picks
If you need a way to reliably remove pet hair, but don't want to shell out the extra cash for the Dyson Ball Animal 2, the Shark Rotator TruePet is a more budget option.
Best Handheld Vacuum
Ideal for… on-the-go cleaning, small messes, and cleaning cars
Handheld vacuums are lightweight, compact, and easy for quick messes. Most handheld vacuums are also less expensive that full upright or even stick vacuums. If you don't need something primarily for cleaning floors, handheld vacuums can be an excellent choice.
RELATED: Need a vacuum on a budget? Click here to see our recommendations for the Best Cheap Vacuum.
Is a corded or cordless handheld vacuum better?
Handheld vacuums may be corded or cordless and there are advantages and disadvantages to each.
Corded vacuums have unlimited run time (as long as they are connected to power), but have the disadvantage of being tied to an outlet. This can make it difficult to clean your car, stairs, or other remote places without dragging an extension cord behind you.
Cordless vacuums have the benefit of convenience since they are not tied to a power outlet. Cordless handhelds are excellent for quick cleanups, but bear in mind, the run time is limited and may need charging frequently (exact run time varies by model).
Handheld Vacuum Cleaner Performance
Handheld vacuums are smaller and more compact compared to most other vacuum styles, but smaller size doesn't always mean diminished performance.
For example, check out the performance of the Shark Pet Perfect 2. This vacuum is small, but still has an overall cleaning score of 98%.
The performance of any handheld vacuum depends on a few factors.
Cleaning Path Width: Some handheld vacuums have a larger cleaning path than others. A wide cleaning path means more coverage, but could also mean less suction since it's distributed across a wider area. Be sure to check the suction power (if it's listed) to get an idea of how powerful it will be.
Brush vs. Nozzle: Handheld vacuums either have a rotating brushroll, a motorized brush attachment, or a plain nozzle. Brushes and brushrolls are great for agitating carpeted floors and capturing difficult debris, like pet hair or debris in carpet. Nozzles are better for large debris and / or cleaning hardwood floors.
Reach: Reach is an important factor since it tends to determine the vacuums versatility. Check out the overall size and shape of the vacuum as well as and included attachments. Some models may be designed short and stubby for a particular purpose, like the Bissell Pet Hair Eraser, which is great for pet hair. Other models can be designed with a long and slender neck, like the Black and Decker 16V, which makes it easy and convenient to clean in tight spaces.
What's a 2-in-1 Vacuum Design?
Some handheld vacuums double as a handheld or a stick vacuum, like the Dyson V10and Electrolux Ergorapido. Both of these models are stick vacuums that can also be handheld vacuums.
If you're looking for a lightweight full-size vacuum, but also need a tool for smaller quick messes, you may want to check out one of the models listed above.
RELATED: Looking for more vacuum cleaner reviews specifically for handhelds? Check out our guide for the Best Handheld Vacuums here.
You should buy a handheld vacuum if…
You already have a primary vacuum – Handheld vacuums are excellent options for people who already have a full-size vacuum or something they use mainly for floors. Handheld vacuums ideally used for spot cleaning only.
You want a car vacuum – Outside of the uses mentioned above, handheld vacuums are also great for vacuuming out your car. Especially if you choose a cordless model, like the Dyson Trigger, handheld vacuums are much easier to maneuver in and out of vehicles.
You should not buy a handheld vacuum if…
You need something for larger messes – Handheld vacuums probably could vacuum larger messes, but the amount of time that it would take would be significantly longer than if you used a larger vacuum. Handheld vacuums are just not designed for large messes, due to their narrow cleaning path.
You need something primarily for vacuum flooring – For many of the same reasons that handheld vacuums aren't great for large messes, they are also not great for messes on the floor.
Our Handheld Vacuum Picks
Don't want to deal with charging a battery? A corded handheld is a great alternative.
Best Vacuum for Hardwood Floors
Ideal for… hardwoods, laminate, and tile flooring
The best vacuum for hardwood floors can span a wide range of types and models, depending on the exact features you're looking for. There are full size uprights, lightweight stick vacuums, robots, and everything else in between.
When cleaning hardwoods, the good thing is that you don't necessarily need a ton of agitating rollers or fancy brushes. Hardwoods are hard and nearly friction-less so debris has nowhere to go but up into the dust bin.
Best Upright Vacuum for Hardwood Floors
Upright vacuums make great options for hardwood floors since they generally have a larger dust bin capacity and carry more on-board attachments.
For example, the Dyson Ball Multifloor 2 is an excellent option for a vacuum that can automatically transition from various floor types.
Best Stick Vacuum for Hardwood Floors
For a lighter alternative to the traditional upright vacuum, stick vacuums are excellent options because they still haven plenty of power, with added convenience and maneuverability.
For example, the Dyson V10 Absolute stick vacuum is a powerful performer on hardwood floors, where it scored an overall cleaning score of 99%, when testing four debris types.
Looking for something a little less expensive? The Dyson V7 and Dyson V8 offer many of the same features, but at a lower price point. Just make sure you get the Absolute model (so you get the hardwood cleaning head).
RELATED: Check out our complete guide for the Best Vacuum for Hardwood Floors.
Best Robot Vacuum for Hardwood Floors
As mentioned above, cleaning hardwood floors is really where robot vacuums shine. You don't have to spend a lot to find a robot vacuum that has good cleaning performance on hardwood floors.
Top 5 Cheap Robot Vacuums For Hardwoods
Here's five of our favorite robot vacuums if you're looking for an excellent value:
What's the Best Vacuum for Hardwoods?
Our Hardwood Floor Vacuum Picks
If you prefer the more traditional feel of an upright we've got you covered with a solid vacuum pick below.
Best Upright Vacuum
Ideal for… strong suction power, whole home cleaning, on-board accessories
Upright vacuums are the traditional go-to for many primary vacuum cleaners. They are bigger, have larger capacity dust bins, and generally stronger suction as well.
Why are upright vacuums so popular?
It really boils down to two things and that versatility and power.
Upright vacuums generally have a couple features that make them versatile and easy to use across the whole house:
Swivel steering – It's hard to beat the steering of the Dyson Ball Multi Floor 2 upright.
Extending hose – The extending hose and telescoping wand of the Dyson Multi Floor 2 increases the reach by 9′ when fully extended.
Lift-Away canister – Many Shark upright vacuums also have Lift-Away canisters that turns this vacuum into a portable handheld, great for stairs or quick clean ups. The Shark Rotator Lift-Away Pro or Shark Navigator Lift-Away Pro are great examples.
Stronger suction – Two of the best upright vacuums, strictly in terms of suction, are the Dyson Ball Animal 2 and the Shark APEX DuoClean Lift-Away — offering 306 AW and 270 AW of suction power, respectively.
Upright Vacuum Cleaning Performance
Many upright vacuums provide excellent cleaning performance across all flooring types, due to that strong suction power and motorized brushroll.
The Shark Rotator Lift-Away Pro, for example, had good scores for all debris types and all flooring types except for cereal and sugar on high carpet, where it struggled to pick up the largest and smallest debris types.
Are there upright accessories?
Upright vacuums tend to have numerous accessories included with the vacuum itself, many of which are stored on the vacuum itself and easily accessible in the middle of the cleaning.
Some of the most popular accessories include:
Extendable wand
Flexible hose
Crevice tool
Soft dusting brush
Motorized brush tool
The Shark Navigator Lift-Away Pro comes with one of the largest variety of accessories that we've tested in an upright vacuum to date. This model includes:
Upright roller base
Hard floor base (with microfiber cloths)
Flexible hose (with handle)
Soft dusting brush
Crevice tool
Motorized brush tool
On-board attachment holder
You can read more about the Shark Navigator Lift-Away Pro here.
You should buy an upright vacuum if…
You want unlimited run time – Since upright vacuums are generally always corded, that means endless fade-free suction, allowing you to clean all your areas without having to worry about a dead battery.
You want a larger dust bin – The dust bin of an upright vacuum is almost always going to be larger than any other vacuum type (except for a few canister vacuums). For one of the largest dust bin capacities, check out the Shark Navigator Lift Away Pro which can hold up to 2.2 quarts of dry debris.
RELATED: Looking for a vacuum that can empty its own dust canister between cleaning cycles? Check out the Roomba i7+ robot vacuum.
You should not buy an upright vacuum if…
You want something cordless – Due to the suction power of an upright vacuum, they are basically always going to be corded power. For something cordless, you may want to check out the Dyson line-up of cordless stick vacuums, like the Dyson V10 which offers 150 AW of suction power.
You want something lightweight – Again, with great power comes great responsibility. The main responsibility being that you have to carry this thing around and upright vacuums are certainly not known for being lightweight. For a semi-light upright vacuum that still has good cleaning performance, check out the Dyson Small Ball, which weighs only 12.15 lbs, and is basically a smaller version of the Dyson Ball Multi Floor 2 upright.
PRO TIP: The Dyson V10 cordless stick vacuum offers the same amount of suction power in max mode (150 AW) as the Dyson Small Ball upright and weighs only 5.9 pounds.
If you don't need the larger dust bin and like the idea of cordless power, the V10 could be a good option.
Our Upright Vacuum Picks
For a less expensive option (but still covers most of what you need in a vacuum cleaner), Shark provides a good option.
Best Stick Vacuum
Ideal for… lightweight, mobility, and cleaning stairs (or other hard to reach spots)
Stick vacuums bring a level of convenience that traditional uprights tend to lack, while also being powerful.
The best of both worlds…
Stick vacuums are generally under 10 pounds and can be cordless or corded. They are easy to maneuver, and typically include a few simple attachments like a crevice tool or dusting brush.
Prices for stick vacuums range from under $100 up to $600 or more. For a great budget stick vacuum, the Electrolux Ergorapido is a solid choice. It's inexpensive, lightweight, and has good cleaning performance.
For a top-performer, the Dyson V10 offers all the bells and whistles you'd want in a stick vacuum. It comes in at a higher price point, but also has more accessories and nearly flawless cleaning performance.
Stick Vacuums vs. Upright Vacuums
With their smaller size, you would expect a stick vacuum to have less suction power than a comparable upright and generally, that is true.
For comparison, the Dyson V10 offers 150AW of suction (in max mode) while the top performing Dyson upright, the Dyson Animal 2 offers 306 AW of suction power.
In the case of Dyson, going with the cordless stick is a noticeable dip in suction power, but keep in mind, the V10 still captured 99% of the debris during our in-house cleaning performance tests.
The bottom line?
In our view, raw suction power doesn't always mean better cleaning performance. There is such a thing as "enough" suction, and that definitely seems to be the case with vacuums like the V10 and other high-end cordless vacuums.
You should buy a stick vacuum if…
You want maneuverability and convenience – Stick vacuums are lightweight and generally easy to maneuver. Many models are cordless so you don't even have to worry about an outlet while you're cleaning.
You want a 2-in-1 – Many stick vacuums also double as a handheld vacuum, making them a more versatile tool to have in your home.
You should not buy a stick vacuum if…
You need a large dust bin – Most stick vacuums have a relatively small dust bin which can be a problem if you're cleaning a larger home or a space with high traffic or pets.
You need to spend less than $200 – good stick vacuums start at around $200 and go up from there. If you're spending less than that, you are probably going to be disappointed in the performance. If you have $200 or less to spend you'll be better off buying a corded upright vacuum, like the Shark Rotator Professional.
Our Stick Vacuum Picks
Best Canister Vacuum
Ideal for… deep cleaning, raw suction power, and light in hand
Canister vacuums are generally less popular than upright or stick vacuums, but don't write them off just yet.
For example, canister vacuums are a great alternative if you want the power of an upright, but the lightweight in-hand portability of a stick vacuum.
With a canister vacuum, the bulk of the weight of the vacuum lies in the rolling canister and not in your hand. Although there are generally fewer options, most major vacuum brands have canister vacuums.
Popular Canister Vacuums by Brand
Canister Vacuum Performance
While the performance of a canister vacuum may vary by exact model, it is generally comparable to an upright vacuum.
Take Dyson, for example. Their Dyson Big Ball Multi-Floor canister vacuum generates 250 AW of suction power.
The Dyson Animal 2 upright vacuum generates 306 AW of suction power.
Next, another top-performing canister vacuum is the Miele C1. Although the Miele name may be less familiar in the US market, this vacuum is top notch and hugely popular overseas.
Miele Canister Cleaning Performance
Miele doesn't openly offer the AW suction power of their vacuum, but in our testing lab, the suction was more than sufficient for all of our cleaning tests.
You should buy a canister vacuum if…
You want strong suction – A canister vacuum is a nice option for strong suction, that would be comparable to a full size upright vacuum (in most cases – varies by model).
You want something lightweight in-hand – Canister vacuums have the power of a larger vacuum, but are lightweight in hand since you only hold the wand and cleaning head.
You should not buy a canister vacuum if…
You don't like being followed – The biggest disadvantage of a canister vacuum for many people is that the canister vacuum follows you around. It can bump into obstacles on the ground or even your own heels as you try to maneuver around the canister.
You want on-the-go convenience – Canister vacuums are best used on one level and in open spaces, so the canister has room to navigate. Canister vacuums can be difficult to use in cars or on stairs.
Our Canister Vacuum Picks
Best Car Vacuum
Ideal for… car detailing, lightweight, and on-the-go cleaning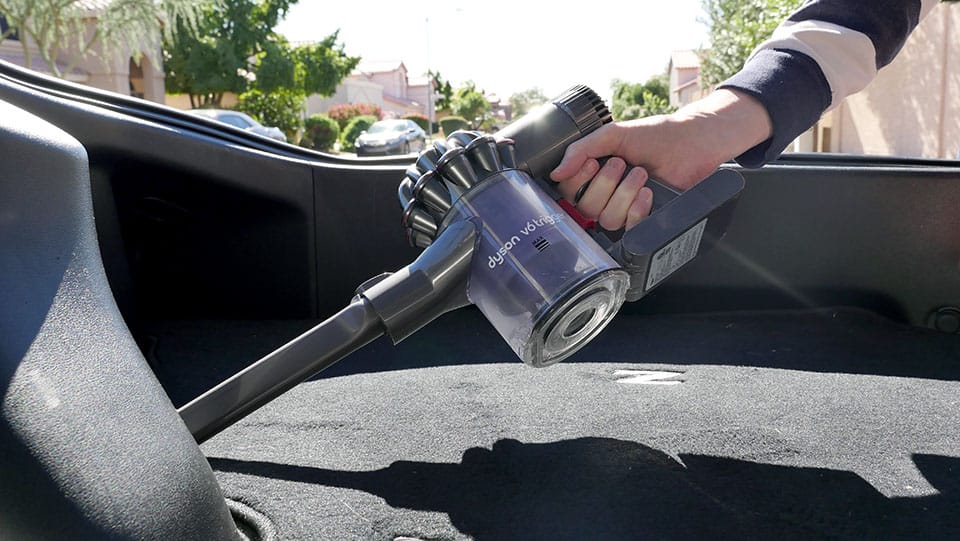 The best vacuum cleaners for cars are lightweight, portable, and easy to use. Car vacuums can be stored in the car directly or available at a moment's notice.
How do you power a car vacuum?
Car vacuums can be powered a number of different ways. Here are three most popular ways to power a car vacuum:
1. Lithium-ion Battery Power
Most cordless vacuums are powered by a rechargeable lithium-ion battery. These vacuum can have a run time that varies from 15-60 minutes, depending on the model.
For maximum 60-minute run time check out the Dyson V10 or for a more budget-friendly option check out the Black & Decker 16V with a 15-minute run time. Both of these models are battery powered.
2. Plug In Power
Other corded vacuums will use a traditional wall outlet. To clean your car, you'll likely need to use an extension cord to help get to all of the nooks and crevices of an automobile.
Nevertheless, corded vacuums make great car vacuums because they have an unlimited run time, making them a great option for the lengthier full detail jobs.
One of our favorites here at Modern Castle is the Bissell Pet Hair Eraser.
This vacuum is incredibly powerful and a great value, considering its low price. The biggest disadvantage to this guy is that it doesn't come with a crevice tool, but for cleaning upholstery, it's hard to beat.
3. Cigarette Lighter Power (12 Volt)
Some car vacuum models are powered by plugging directly into a cigarette lighter, like the ThisWorx TWC-01.
This particular model comes with a few different accessories and has 12V of power, making it a solid choice for a vacuum that would never have to leave your car.
What to look for in a car vacuum?
Here is a short list of some of the most important things to consider when thinking about which car vacuum to buy:
Run Time – How long do you plan to run this vacuum in any given cycle? For quick pickups, a 10-15 minute time time would be probably be enough, but for more in-depth cleaning cycles you may want to consider a longer run time or a corded vacuum.
Weight – The weight ties into the question above… how long do you plan to use it? Most car vacuums are going to be around 5 pounds, but that's not always the case, especially if its a corded vacuum or if it has a longer run time. Consider what weight you're comfortable carrying and how long you'd have to carry it around.
Accessories – What type of mess do you plan on cleaning and where? Are you primarily concerned about the dog hair stuck on your upholstery? Check out the Shark Pet Perfect 2. Are you looking for a model with a soft dusting brush to keep your dash looking showroom ready? Check out the Dyson V7 Trigger. Got snacks and crumbs buried in every crevice? Check out the Black & Decker 16V.
You should buy a car vacuum if…
You want something portable – Whether they're corded or cordless, the best vacuums for cars are designed to move around. A good car vacuum will be under 5 pounds and comfortably fit in your hand.
You should not buy a car vacuum if…
You need a large dust bin – Due to their smaller sizes, car vacuums generally have a relatively small dust bin. If you're looking for something that you don't need to empty as frequently, you may want to consider a different option. Perhaps a canister vacuum that is light is-hand, but retains the larger dust bin capacity.
Our Car Vacuum Picks
Removing pet hair is a more difficult task, so having a car vacuum designed excitability for that task can help.
Best Vacuum for Carpet
Ideal for… low or high pile carpet, deep cleaning, area rugs
While most vacuums are designed for cleaning carpet, that doesn't make them all equal.
The best vacuum cleaners for carpet may have advanced brushrolls, high suction power, or carpet-friendly accessories for overall better cleaning performance.
Robot Vacuums for Carpet
Robot vacuums certainly excel on hardwood floors, but they can still be strong performers on carpet as well. We run performance tests on all vacuums that come through our the doors at Modern Castle.
Based on those tests, the following robot vacuums scored 98% or higher on carpeted floors:
Both of these models are from Roomba's i Series lineup and have a few upgrades that help to improve performance on carpet, but that's not to say that they are the only good models out there.
Even some older models can still be a good value. TheHomeDweller.com has extensive comparisons of the Roomba 805 vs. a number of iRobot and other robot vacuums.
Also, see our Roomba reviews page for a full list of legacy models.
Robot Vacuum Carpet Performance
There are many other robot vacuums that can perform well on carpet with most debris types, but many struggle with one specific type of debris or on one specific floor type.
Take, for example, the following models below:
Roomba 690 – 99% performance on carpet (if you exclude sugar tests)
Xiaowa Lite – 99% performance on carpet (if you exclude our sugar tests)
Roomba 960 – 100% performance on carpet (if you exclude our sugar tests)
Tenergy Otis – 98% on carpet (if you exclude sugar tests on high pile carpet)
Ecovacs Deebot N79 – 96.5% on carpet (if you exclude sugar tests)
RELATED: Check out our full guide here for the Best Vacuum for Carpet.
Best Brushroll for Vacuuming Carpet
When looking for a vacuum, for carpet, the brushroll plays an important role. There are a couple different style of brushrolls you may want to consider:
Bristle Brushroll – Bristle brushrolls are good on carpet because they can agitate the debris and capture debris deep in the carpet fibers. Potential downside – hair can easily become wrapped and tangled in the bristles.
Example: See the Electrolux ErgoRapido stick vacuum.
Rubberized Brushroll – Commonly seen on robot vacuums, rubberized brushrolls are another effective brushroll type that can agitate debris and help lift it into the dust bin. Potential downside – generally not seen on vacuums that are not robots.
Example: See the Roomba 980 robot vacuum.
Combo Brushroll – Some vacuum models use a combination of different materials to create a brushroll, or system of dual brushrolls. This is seen in the Dyson Absolute stick vacuum models or the Shark DuoClean models.
Example: See the Shark APEX Lift-Away upright vacuum.
What's the Best Vacuum for Carpet?
If you want a large bin capacity – For a large dust bin, the Dyson Multi Floor 2 is an excellent option. This Dyson is an upright vacuum designed to tackle a multitude of space with its self-adjusting brushroll, variety of attachments, and large dust bin capacity.
It you want a lightweight vacuum – For a lightweight vacuum without sacrificing power, the Shark Navigator Pro is a good option. At only 13.5 pounds, it is much lighter than many comparable full size upright models.
If you want a great deal – For an excellent value, the Hoover T-Series WindTunnel Rewind offers excellent cleaning performance on carpet and is a surprisingly low price.
Our Best Vacuum for Carpet Picks
While the Shark Navigator may not be as good as our best overall pick for carpets, it is not bad by any stretch.
Best Vacuum for Allergies
Ideal for… people who suffer from allergies or asthma
Vacuums don't always directly market themselves towards users with allergies, which can leave you with irritated sinuses or other allergy problems.
Vacuums that are designed with asthma and allergies in mind may include:
Advanced HEPA filtration
Bagged debris systems
Unique design and seal systems
Advanced HEPA Filtration
HEPA filtration is the system that helps to filter out particles and irritants that can cause issues for people with allergies. Dyson's filtration system is said to trap 99.97% of particles as small as 0.3 microns.
FUN FACT: For reference, a micron is 0.00004 inches!
Many high-end upright and stick vacuums utilize HEPA filters.
Bagged Debris Systems
Another way to limit allergies is by using a bagged system, like on the Miele C1 canister vacuum. Bagged systems may seem out-dated, but in reality, they can be a great line of defense for allergy sufferers.
Bagged systems contain all of the debris and particles and prevent releasing any particles back into the air as you empty the canister.
RELATED: Click here for a head-to-head comparison of Miele vs. Dyson.
Unique Patented Systems
Some manufacturers release new technology that is proprietary to their brand.
For example, the technology in the Dyson Cinetic Big Ball Animal Allergy Upright.
This vacuum is unique in that it doesn't use a pre-motor filter and requires zero filter maintenance.
In addition, this model comes with a variety of cleaning attachments to make it easier to clean different parts of your home.
What about asthma / allergy certification seals?
Not sure if the vacuum you're considering is a good choice for allergy sufferers? Look for the seal!
The best vacuums for asthma or allergies will be certified by the Asthma and Allergy Foundation of America.
What's the Best Vacuum for Allergies?
If you want something portable – The Dyson V7 Trigger HEPA is handheld vacuum, providing great allergy protection with an advanced HEPA filter and sealed filtration system.
It you want a bagged system – The Miele Compact C1 is a bagged canister vacuum with powerful cleaning performance and a sealed system.
If you want a bagless system – For bagless performance, the Dyson Animal 2 upright vacuum may be right for you with extremely powerful suction, maxing out around 306 AW. The only major downside is the Animal 2 has so much suction it can be difficult to push on high carpets.
Our Best Vacuum for Allergies Picks
If you have mostly hard surfaces, low pile carpet, and/or lots of fabric / upholstery that needs to be cleaned, the pure suction of a canister may be a better choice.
Best Value & Budget Vacuums
Ideal for… good performance at a great price
A high quality clean doesn't have to come with a high dollar sign. If you're just looking for a good vacuum at a great price, this is the section for you.
Below you'll see a breakdown of the best vacuums at different price tiers.
Let's dive in.
Best Vacuum Under $100
For under $100, you can get a quality handheld or a basic upright. Popular bagless upright vacuums include the Bissell Cleanview 1831.
In addition, while the Hoover T-Series upright is usually more than $100, it's so close we felt we should include it as well. While the Hoover T-Series struggled on hardwoods, it had great cleaning performance on high and low pile carpet.
By comparison, the Bissell Cleanview is an ultra in-expensive choice if you just need something basic.
RELATED: Click here for a head-to-head match up of Hoover vs. Bissell.
Our Under $100 Vacuum Picks
Best Vacuum Under $200
For a little more money, you can get a few more bells and whistles on most all vacuum types.
For uprights, you're going to get improved swivel steering, auto-adjusting flooring transition, and more opportunities for attachments.
Some of these models include the Shark Navigator Lift Away Pro or Shark Rotator Pro upright vacuum.
If you're looking for a stick vacuum, the Electrolux Ergorapido is another excellent option.
This model is a 2-in-1 vacuum with great overall cleaning performance (excluding large debris on hardwoods).
RELATED: Click here for recommendations for the best cheap vacuum.
Our Under $200 Vacuum Picks
Best Vacuum Under $300
With an even greater budget, comes more options and more advanced technology that tends to apply across all vacuum types.
For under $300, you can get a quality 2-in-1 stick vacuum with the Dyson V7, an allergy-friendly canister vacuum with the Miele Classic C1, or an autonomous robot vacuum with the Roomba 675.
Our Under $300 Vacuum Picks
What's the Best Budget Vacuum?
If you want an upright – To get the most of your money from an upright vacuum, it's hard to look past the Shark Navigator Lift-Away Pro. This vacuum offers strong suction, swivel steering, and multiple cleaning modes for a price that's hard to beat.
It you want a robot vacuum – For a value robot vacuum, both the Roomba 690 and Roomba 675 offer a good value without sacrificing performance or features. Both of these vacuums allow scheduled cleanings, wifi connectivity, and smartphone control. The only difference is the 675 doesn't include a virtual wall.
If you want a 2-in-1 body style – For a vacuum that doubles as a stick vacuum or handheld, the Dyson V7 is an excellent option. It has exceptional cleaning performance and can easily be converted to a portable handheld from the upright stick mode.
Vacuum Cleaner Reviews
The following table includes a complete list of all vacuum cleaner reviews on ModernCastle.com.
All of these vacuums went through our standard series of tests designed to showcase the performance, usability, and other features of the vacuum.
Interested in how we test and score each vacuum cleaner? Click here to see our vacuum review and testing process.
Vacuum Cleaner Comparison Reviews
Below we have listed all comparision vacuum reviews on Modern Castle.
Don't see what you're looking for? Send us an email request here.
More Vacuum Reviews & Resoures
Can't Decide What Vacuum to Buy?
If you're still having trouble deciding what vacuum is best for your home, don't worry. Please use this form to send us an email.
We'll discuss your needs, desires, budget, and then make a recommendation based on what's best for you. We typically are able to respond within 24 hours. So drop us a note now!
Got other questions or comments?
Please drop us a note down below using our comment form. We'd love to hear what you think.
Related Reviews & Guides
Cleaning your carpets and floors is important, but so is cleaning the air. Take a look at our air purifier testing series.
Updates
July 24, 2019 – Added images from our Dyson Animal 2 tests and review.
April 4, 2019 – Over the last several weeks we have overhauled the page with a new format / layout, added new vacuums reviews, and updated other information.
November 30, 2018 – Overhauled page with almost all new content. Added best vacuum sections for various types. Modified display of review information. Removed old content and out-dated scoring system information.
August 28, 2018 – Added new products to the tables.
March 22, 2018 – Improved organization for both upright vacuums and stick vacuum review tables.
January 10, 2018 – Updated table pricing to fall into tiers, instead of exact prices. Also added a section on canister vacuums.
December 7, 2017 – In the last few weeks we've added more reviews to this page. The content has not significantly changed, just slightly different formatting and more links to our new reviews.
October 27, 2017 – Added information about how vacuums work and types of vacuums. We also added more clarity around the specific elements within each scoring factor, adding scoring tiers and the criteria we look for within each scoring tier for each scoring element.
October 1, 2017 – Added information clarifying our scoring tier levels. Specifically, that most scores will be between 50-100%, with only exceptional failing cases scoring 50% or below. Added clearer definitions for 0-70% scoring tiers.